Partners of the Shift2rail funded project TER4RAIL have the pleasure to invite mobility experts to a one day meeting where we will work on several topics related to the future of European infrastructure. As we are getting closer to the first draft of results of the TER4RAIL project, we are delighted to share exclusive update of the first results and of course hear your opinion.
With the "Knowledge Café-method", we will discuss questions such as; 'How can we work toward a personalised, seamless and connected mobility system for freight or public transport?' or 'What will the evolution be of the transport mode for the upcoming 30 years?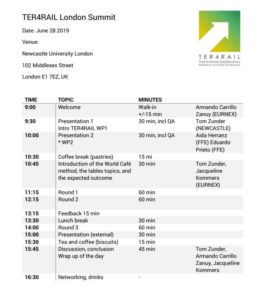 Event venue: 102 Middlesex Street, London, E1 7EZ, UK (4 minute walk from the Liverpool Street Station)
Sign in to London Summit TER4RAIL
This project has received funding from the Shift2Rail JU under the European Union's Horizon 2020 research and innovation programme, under Grant Agreement 826055.
For further information please contact Christine Hassoun, Senior Advisor, Project Dissemination at: hassoun@uic.org